My darling friend
Lizzy
has this new blog hop happening: Words of a Wanton Woman: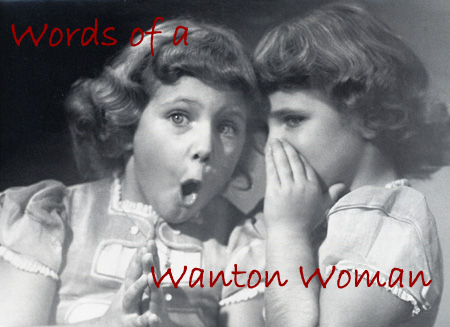 And I've decided to play along. You should too. This also officially counts as me pimping this out. Done and done.
So this week's topic is meet the parents. Hooboy. Should this one be fun!
Generally, parents love me. Especially dads. I get the, "you let me know if he doesn't treat you right" speech pretty often. I love dads. They make life easy.
And with the exception of D's mom, who loved me too, moms can be a leetle protective of their sons. D's mom, though, was hilarious. The first time I met her, she stuck me against the wall and added my height measurement in pencil to those of her kids and their many friends and partners. She was just an uncommonly warm and welcoming woman (how's THAT for alliteration?).
But the mom who takes the cake is Joe's mom. (Joe is not his real name, but it's pretty damn close and he is the one ex who I would punch in the throat if I could because he's a little douchebag so I have no qualms using close to his real name.)
She hated me. HATED me. Seriously. Joe was her baby. And that made me the antichrist.
Apparently, even though she didn't take any time to get to know me in the slightest, my only goal was to steal her baby boy away and ruin him for all eternity. In her defense, that not that far from the truth. Snort. Riiiiight.
But really though, I don't mind if someone doesn't care for me. There are certainly plenty of people out there who aren't my biggest fans (shocking I know!) and I'm okay with that. Can't please 'em all. But I'd like that dislike based in some reality, especially if I'm seriously dating your son and you may have to deal with me for some long period of time in the foreseeable future.
Aside: that thought makes me throw up just a little bit.
But try to get to know me, woman! I was making an effort. She could have too. And if she still didn't like me, well then okay. But if I'm just a mysterious threat based in paranoia and an Oedipus complex, well that I'm not so cool with.
I could share many stories in which she did her damndest to snub me and make me feel unwelcome, but I'm feeling like that's all in the past and I'm over it. No need to drudge up old grudges.
But here is my advice for meeting parents:
It's trite but true: you can only be yourself. You can't make anyone like you. Either your partner cares about his (or her) parents' opinion or doesn't. And THAT'S what you need to know.
If a guy is so attached to his mother that if she hates you you're never going to win? Well, honey. That's how it is. You may have to accept that he'll never cut the apron strings and his mom is more important to him than a relationship. Move on.
Being polite never hurt anyone. I'm a big believer in holding the higher ground. When Joe's mom was acting like a snatch, I was sweet as pie. It didn't make one hell of a difference in my case, but I still felt like a good person.
Be aware of the parents who like you too much. They may take it awfully hard when you break up. Just sayin'.
Everyone likes baked goods. If they don't, run. That's just a bad sign.